With a degree in management, it was a well-planned decision that Gwendolen always wanted to establish herself as a businesswoman and she did. She is a calculative risk taker and quite because her father is a successful businessman too. Little Gwendolen grew up seeing her father analysing, investing and venturing in projects that required commitment, time and management skills. It was a good enough reason for her to adapt and adopt to the same environment. We have often seen her appreciating the fact that it was her father's motivation and trust in her business instincts that helped her take the initial steps. On the other end, she also grew up seeing her mother's projects which were about creatively introducing the right ways of learning for toddlers. Gwendolen's mother is an Early Childhood Care and Education Professional and watching her mother's innovative techniques for introducing various learning subjects was another attraction.
Gwendolen was always keen on venturing into franchising concept, however she didn't want to offer the market any products or services which already existed. After a long thought and some market research work, Gwendolen came up with an interesting concept of "handwriting improvement" – an educational course which was modulated into a product and designed to be offered to the students at academies set up through franchise operations. What else could the combination of a business influence and education influence lead to? - An educational-franchise business set up. Gwendolen had just completed high school and she decided to start up the project simultaneously while pursuing her graduation degree in commerce. The first step she took was to enrol herself for the study for graphology, later she spoke to many handwriting experts, teachers, and began her research work which was based on a few important topics like left handers writing forms, dyslexia, the motor skill's importance, and various other topics. Her this study was appreciated and acknowledged by the National Handwriting Association in United Kingdom in the year 2009. Once she was ready, she began drafting a course book for students. The course book and the fonts were designed keeping the principals of graphology, motor skill, and speed at writing, suitable for left and right handers and also most importantly it was suitable for students with special skills like dyslexia and others. The course was launched on the final event of the WizWorld Handwriting Competition which is Gwendolen's event company. The Handwriting Competition was staged to market the idea and spread the awareness and importance of handwriting.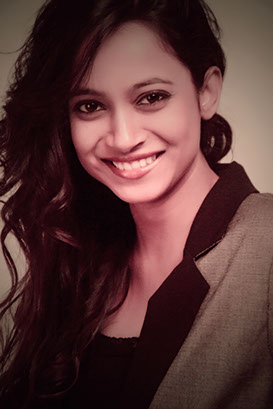 It was Gwendolen's first large scale showcase which had attracted 12,447 participants. The brand was titled "CurveC" and today it holds its franchise branches all over India and a few other countries. CurveC as on year 2014 would have crossed a total student admission of over 0.2 million (two hundred thousand) to the minimum approximation. Gwendolen was 19 years old when CurveC began its operations and she registered it under a Private Limited Company in India named Child's Intellectual Academy Private Limited (CIA Pvt. Ltd.) with an established board of members. Child's Intellectual Academy Private Limited was adopted by her from Child's Intellect Academy which was an academy set up for the needy by her late grandfather and later carried on by her father which somehow was discontinued in the year 2008 due to the media having included its name into a legal suit which later was asked pardoned for. Gwendolen made sure that she will bring back the name in media with a positive lift and prove it with her hard work and dedication that inspite of many hurdles and demotivation, if one is true will get the power to rise and shine again and she did exactly that. After all, history says that there is no true and successful person who has had an easy walk. This is just another story to prove the old saying.
Today CIA and Gwendolen stand to be one of the leading educational brands with various educational products under its roof.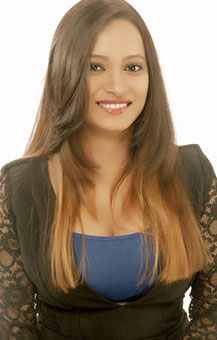 The first signs of generosity goes back to a story of when Gwendolen was just one year old. Like most kids, Gwendolen wasn't easily parting with the habit of sucking the pacifier and her parents decided to tell her a story. They took her near the window of their house and showed her a nest of a crow which was on the tree of their house garden. The nest had a muster of crow chicks and her parents showed her the nest and told her, "Those crow babies do not have a silicon nipple and they cry for one, so should we give them yours?" and spontaneously she agreed. That was a way her parents resorted to discontinuing the habit but they also noticed the quality of love, care and generosity that was developing in her. Gwendolen grew up in a family where daily prays, forgiveness and simplicity were taught. The girl grew up being kind hearted and was often involved at helping those fellow classmates who couldn't afford paying their academic fees. When Gwendolen was 16 she raised funds for Cancer patients and she was also awarded with a silver medal for the contribution. As she grew older she established a foundation named "Break Free" (originally registered as "I'm a Girl") which is operational even today and its key purpose is to raise awareness and educate the girls and women about the various possible infections, vaccinations, hygiene rituals, preventing breast cancer and cervical cancer, pregnancy, being prepared to face any injustice like rape, domestic violence and if occurred how to find a way to recover from it. Gwendolen herself at a very young age faced a lot of turmoil. Though her parents always kept her secured and protected yet the evil eye fell on her too. She has faced issues like false allegations which were later proved that she was innocent of the charges. It was her this experience that gave birth to the stronger woman in her. She realised that problems can come your way anytime and anywhere, no matter how much ever protected you stay. She was lucky enough to be born to a family who was capable enough to stand by her but what always bothered her that there are many who struggle without any help. This thought gave rise to "Break-Free" Foundation. Break Free funds itself and had conducted various seminars, sessions and camps for girls to educate them over everything necessary be it physical health or mental health.
Apart from Break Free, Gwendolen along with her father has funded the trips of the Indian Team which represented India at the Memoriad Mental Sports Olympics in year 2012, Japan Mental Calculation Championship in 2013, Memoriad Turkey Open Championship in 2013 (co-funded along with Mega Hafiza), Mental Calculations World Cup 2014 and many other national events within India too. The father-daughter duo have also funded the training and materials which include uniforms and software of all the mental calculators who represent India at these events. The objective is to lift up the sport and motivate the contestants so that any financial incapability shouldn't be a reason of demotivation.
Gwendolen also provides financial support towards education of two orphan girl children. She also provides her voluntary support towards Animal Welfare Activities and Woman Rights Activities. She is spotted many a times serving home cooked food to the poor.
"I believe exchanging a smile, greeting, offering a helping hand, a patient ear, a prayer is also part of being a philanthropist. The quality resides within everyone, it's only necessary to bring it on. Most people also think that being a philanthropist is something for the rich but I think any form of generosity, it can be feeding the poor or bestowing our attention on another person who needs you is part of practicing philanthropy" – Gwendolen Noronha
The word compassionate perfectly describes Gwendolen and her love for animals proves it all. When she was eight years old and discovered a snake's burrow in her garden, she decided not to tell her parents because she didn't want anyone to destroy the snake's house or kill it. It was only when she decided to seek help from the Wildlife Organisation so that they could take away the snake and release it into the nearby jungle, she told her parents. It never mattered to her if it were a dangerous reptile, a ferocious mammal or a domestic pet, she loves all. As a young kid, she had rescued three squirrels and taken care of them, she also first aided a hurt bird. She is often seen feeding the stray dogs and it's a common sight to see the stray dogs on the road to her house warmly greet her while she enters. She proclaims her love for turtles and educates many about the endangered species. She is the member of PETA (People for the Ethical Treatment of Animals – the largest animal rights organisation in the world) and her love for animals can be often seen even during her hectic trips. She makes it a point to spend time with animals and participates at the interaction encounters whenever she can.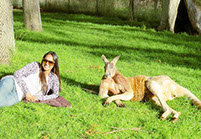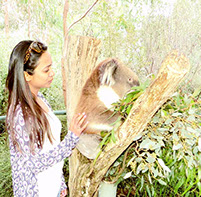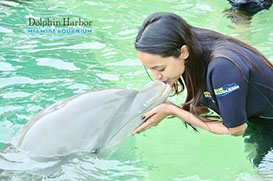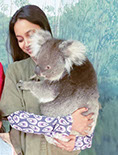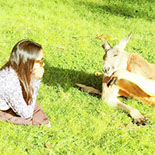 The World Mental Sports Federation Coach of the Year is an association award given annually to the best mental sports coach who is considered to have performed the best in the previous 12 months. It is awarded based on the performance of the contestants trained under the coach, awards won by the team and activeness and contribution to the sport by the coach internationally. Gwendolen was awarded the title in the year 2014 on the event of International Woman's Day as the Best Woman Coach since her four students have broken and created eighteen world records in total till date. Her trained team had won the maximum number of medals at the Mental Sports Olympics 2012 (33 medals out of 42 total medals) followed by the championship win at Japan Mental Calculations Championship in the year 2013 at Tokyo, Five Gold Medals, Four Silver Medals and One Bronze Medal at the Memoriad Turkey Open Championship in 2013, Mental Calculations World Cup win in 2014 at Germany. Gwendolen Noronha is the official coach for the Indian Team at the Memoriad World Mental Sports Olympic Federation. After numerous elimination rounds, finalist are selected to represent the country and thereafter they undergo a special training camp set up by Gwendolen. She is known for her unique methods of mental calculations especially in the field of Mental Square Roots which have showcased astonishing results internationally with a speed that is practically impossible for the human brain to meet. While most countries and contestants wonder what the secret is, Gwendolen is quite accessible and available to train international contestants too. She is a self-trained Memorologist and Mental Calculator. She does occasionally provide support to contestants from Peru, Spain, UAE, Australia, Canada, Kenya and United States of America. Gwendolen along with her father funds the trips of the Indian Team and their coaching.
Records her trained contestants stood to create and break are: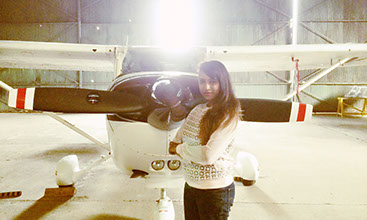 Desired to get your own wings ever? Well, at least Gwendolen did. She loves flying and sports activities related to heights like gliding, sky diving. She travels a lot around the world majorly for work and planes are her passion. She always desired to own her own wings and fly freely like a bird. And there it was….. A private pilot licensee. A license to the thrill and privilege very few people have. Gwendolen has a very sporty side to her. Be it going on camps since schools days or trekking even today. She loves forest trekking. Apart from this she is often spotted jet skiing by herself, kayaking, swimming, playing badminton, basketball and others. She also loves watching soccer matches and cricket. Adventure sports and other sports are an essential part of her life. Rare to actually find this quality with most women but Gwendolen is different from the rest in her own special way. Flying as a thrill and for fun, exploring the sky with the beautiful nature beneath be it snow or land or water, all seems so much fun to her. She studied for the examinations of private pilot which covers a lot on radiology, meteorology, navigation, aerodynamics, etc. She is a mental calculation coach so the math of it was cake walk and she has loved physics as a subject since school. Well some people have the privilege of saying, "Let's go plane shopping today", and this young lady totally possesses this privilege. Her most weekends (if not occupied by work or travels), is spent at the aerodrome and her wings in action.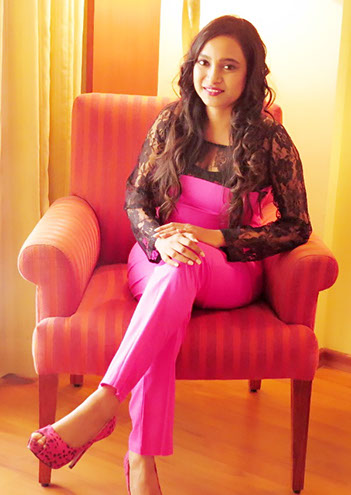 Being a writer can be very difficult particularly with the amount of rejection a writer has to face. As a school child, Gwendolen loved writing. Her love for the field was noticed when she started contributing articles for her school yearly magazine. This solitary art was a regular practice for her. She enjoys solitude for creation. "There have been days that I felt energized by time alone with my mind", says Gwendolen. Her piece of writing and the power of using the pen and right words was recognised by World Vision during their 42nd International Conference and her article was published in the year 2004 for the same conference. Gwendolen was 15 years of age then. She never focused on any particular type of writing nor was she sure on taking up writing as a career. She wrote because she loved to write. Be it poems, short stories, her daily dairy, or any thoughts. She contributed her piece of work to many magazines for kids like Tinkle, JLT (Just Like That), Empty Slate and a lot more. She also has written columns for The Times of India's Educational Section. She has authored co-curriculum books which were incorporated as part of the school syllabus, named "I luv love spellings", "My Phonics" and "Handwriting Manuscript". Apart from these, the course books and materials aids used for her educational franchise brand CurveC too is written by her which was appreciated by The National Handwriting Association in United Kingdom. Gwendolen currently is compiling her work for three different topics. One on female health, hygiene, crimes, etc., the other on a true life story based on a girl who was a mental athlete but was gradually losing her memory due to chronic depression and was battling the situation, and the third being her experiences and reason behind her success at being the world's best mental calculation coach.
"All the three topics are extremely different in subject and emotion. They may or may not land up getting published as a book but they definitely will be available to read online in form of articles or a continuous story line. Inside each one of us are memories, emotions and an imagination that runs deep. We go there to tap into the experiences that make our writing resonate. Sometimes what emerges maybe resonant in truth and raw in emotion. We write with the knowledge that most people feel these things but they don't admit to themselves that they exists. We have the ability and the strength to write those thoughts without apology", says Gwendolen.
Gwendolen's active participation at inter-school competitions like debates, elocutions, declamations, extempore, turn coats, mock parliament, dramas, made her fall in love with the stage. This love was seen even post school, while she was in her first year of bachelor's degree where she was seen as the host of her college festival. Speakers like Gwendolen know what ancient wisdom and modern science have to say about the best practices in constructing and delivering talks that work. She is well versed with the principals of rhetoric and oratory. She knows her own field of passion and work to a level that will cause others to be convinced, not just because of her force of reasoning, but also because she is visibly enjoying the belief she wants her audience to accept. Her listeners crave intimacy with her topics. She is realistic, determined and accessible.
She is often invited to talk to college students, law students, school students, doctors, and people from various other fields. She says plain things in an interesting way. Her greatness as a speaker comes from inventiveness. She is part of the speaker series event of iDiscover which she also co-heads for India and UAE. She often is inspired by the speechwriting's of Warren Harding and keeps in mind the word "bloviate" before getting on stage.
"I have heard a lot of speakers who talk much and say little. I rather try to be vulnerable where I say a lot without too much talking. It makes me more real, sensitive and accessible which have proved to be appealing traits without being wimpy", states Gwendolen.
Her latest topics that she gets invited to speak on is about "battling ill-doings of a society and dealing with false allegations", "women safety and measures", "women empowerment", "mental calculations and memorization benefits", "youth motivation".
Gwendolen has been seen sharing the stage with other celebrities as well from the Indian Film Fraternity, Global Business Entrepreneurs, and Sports Stars for many speaker events. One such example was at the Bombay's World Trade Centre to thousands of youth along with actress and former Miss Asia Pacific Title Holder, Dia Mirza powered by AIESEC.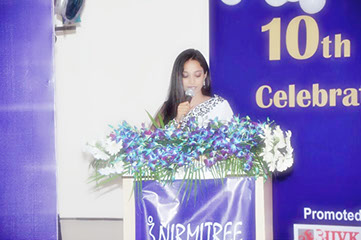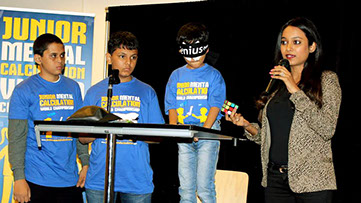 This title and profession came to Gwendolen as a gift and not by choice. With a golden resume and high performance rank in her fraternity, this was expected to come to her. Often Principals, Deans or individuals approach her to consult the youth about their career or behaviour or habits and if she has the time, she definitely shows up for it. She keeps herself well aware of the fact that the client is building trust in her and that is a big responsibility.
"I evaluate and make sure that I am producing error free deliverables, which establishes that I am thorough and my recommendations are solid. I am lucky to be blessed with a natural quality of being a bigger picture thinker and at the same time I can pay attention to details", says Gwendolen.
While she believes that there is nothing wrong with buying something that everyone else already owns if you like it, Gwendolen isn't a trend chaser. She doesn't fall for the bombarding by brands or the alluring advertisements. What people, youth and journalist notice in her at all the events she is seen at, be it a small charity event or at the Mental Sports major events or at a fashion event or a party is that she is one of the coolest and best dressed individuals. She embraces the fundamental attributes of fashion in her way of creativity and originality. She is among those woman who tries new looks before they become trends. She is a girl who has a very beautiful and attractive personality and her fashion statement when added to it makes her stand out from the rest, making her look amazing. She is not a trend chaser, she's a fashionista. She knows how to mix and match prints, which fabrics pairs well with others and how to layer a look. She follows a unique and balanced diet plan with exercise daily, making her maintain a great body, well-nourished skin, and smooth hair and this helps her know what best would suit her looks.
Her best selections have been her shirt styles, blazer styles and evening gowns. She picks and fits the best. That's when we see a lot of woman around her chasing her style and adopting it. Gwendolen loves shoes and handbags and is often seeing trying a different look with her hair. She carries some great eye makeup too which adds to the beauty of those super gorgeous dark eyes with naturally long lashes.
Gwendolen regularly practices Yoga, Pilates, Swimming, Badminton, and Running as part of her exercise regime. Cold pressed juices are her favorite with a planned balanced diet which maintains a well-toned physical fitness and perfectly shaped body. No matter even if it's a simple pair of jeans and tee shirt, she manages to look flawless in just everything. She has been a model for two fashion brands and walked the ramp at the Fashion Week a couple of times for Indian Bridal Designers and Jewellery Designers. Of late Gwendolen was seen endorsing the international fashion brand "bebe" for their Winter 2015 Fall VIP Collection. She has been styled by Warren Tricomi, L'Oréal and M.A.C.
Gwendolen believes in "Fashion for a Cause" and any funds earned during events are used towards donation.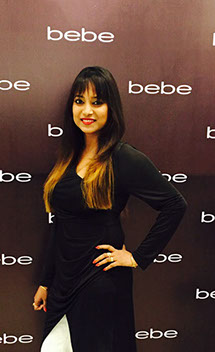 There is a lot more to Gwendolen than the above. She is an artist too and back in school days had topped one of the toughest entrance examinations of National Institute of Fashion Technology and National Institute of Designing. Gwendolen didn't want to take it up as a career, therefore she ended up studying Business Management and now has multiple degrees in her name. She loves sketching, painting on canvas and fabric. Apart from painting, Gwendolen sings really well and had taken up music as one of her subjects in school. She used to practice the guitar, piano and surprisingly the drums and was part of the music band at college too. She has completed five years in Indian Classical music too with learning to play the sitar, tanpura, harmonium, jal-tarang, and a bit of tabla. In fact the title track of her foundation has been composed by her and we are expecting to here her voice for the female version. The track is being recorded at one of the biggest music company's in Bollywood. She was an athlete with a great sprint speed of 9.6 for 100 m dash (at school) and even today her foot-speed is quite a competition to people averagely exercising or playing any sports with running as a main aspect. She was a national level chess champion but didn't want to pursue it as a career in-spite the expectations of her father who was a grandmaster himself. She was state level champion at swimming and badminton. Even today Gwendolen continuous to play these sports as part of her exercise regime. Now that's how she gets the perfectly shaped body and great fitness. Since she loves dancing, she professionally learnt belly dancing, salsa, tango and Indian classical dance bharatnatyam. Gwendolen maintains her body weight and checks it closely to have a perfect BMI because of her aviation needs as she is a private pilot and occasionally she is part of the fashion industry as well. Gwendolen exercises regularly, although she makes sure she doesn't develop muscular looking body because she finds that manly because it is easy to hit the gym and create the perfectly toned body which eventually would look less feminine and would look terribly post the age of 50 years but maintaining the perfect shape in an athletic way by making sure you don't lose the feminine side is the toughest part.