International Organizations and Associations who have accredited and appreciated the work and contribution of Gwendolen Noronha in the field of education worldwide.
ASSOCIATION OF INTERNATIONAL EDUCATION ADMINISTRATORS (AIEA)

The Association of International Education Administrators (AIEA), an organization formed in November 1982 in United States of America, is composed of institutional leaders engaged in advancing the international dimensions of higher education. The purposes of the Association are to:
• Provide an effective voice on significant issues within international education at all levels,
• Improve and promote international education programming and administration within institutions of higher education,
• Establish and maintain a professional network among international education institutional leaders,
• Cooperate in appropriate ways with other national and international groups having similar interests.
ASSOCIATION FOR THE ADVANCEMENT OF INTERNATIONAL EDUCATION (AAIE)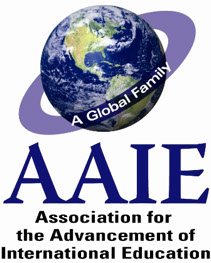 Founded in 1966, the Association for the Advancement of International Education (AAIE) is a dynamic global community of educational leaders and learning. Its membership includes international schools from around the world as well as universities, organizations, and individuals who support AAIE's mission.
Designed to meet the diverse needs of its membership, AAIE endeavours through its many services to connect people, ideas, and resources worldwide. It does this by providing opportunities for professional development, personal growth, and networking, all with an emphasis on international school leadership.
INTERNATIONAL DEBATE EDUCATION ASSOCIATION (IDEA)

The International Debate Education Association (IDEA) is a global network of organizations that value debate as a way to give young people a voice. The IDEA Network is composed of entities located in the Netherlands (established in 1999), the United States (2001), the United Kingdom (2011), Belgium (2011), Macedonia (2012), Kyrgyzstan (2013) and Tunisia (2014).
IDEA is the world's leading provider of debate education, providing resources, training and events to educators and young people. IDEA works with schools and universities, debate organisations and community groups and partners with foundations, NGOs, businesses, and governments.
IDEA believes that debate promotes mutual understanding and informed citizenship around the world and that its work with young people leads to increased critical thinking and tolerance, enhanced cultural exchange and greater academic excellence.
NATIONAL HANDWRITING ASSOCIATION

National Handwriting Association is an organization in United Kingdom whose aim is to:
• Raise awareness of handwriting as a crucial component of literacy
• Promote and foster good practice in the teaching of handwriting
• Provide support for those working with children and adults who have handwriting difficulties